Below are a list of books, organized by topic, to help you with your family history research! All of these publications are available through the Guelph Public Library (various branches), and some are part of the Wellington County Branch Family History Collection. If you do not reside in Wellington County, check out your local public library.
Book Topics:
Getting Started in Family History
DNA
Italian Heritage
Canadian Heritage
United Empire Loyalists
British Home Children
Getting Started
Generation by Generation: A Modern Approach to the Basics of Genealogy by Drew Smith
Check out 929.1072 SMI at the Main Branch, GPL
In this modern approach to family history research, Smith outlines the importance of family relationships, naming practices, the research process, and where to look for ancestral information that may have already been researched. Tips for organizing all the information you find and an overview of DNA testing are also provided. Part II of the book focuses on conducting research and includes an explanation of relevant records and key websites.
How to Do Everything Genealogy, Fourth Edition by George G. Morgan
Check out 929.1072073 MOR 2015 at the Main Branch, GPL
This practical guide explains all of the key family history records and outlines both traditional and online research strategies. Resources from Canada, the U.S. the U.K., and Australia are included along with technological tools, locating difficult-to-find records, and tips for breaking through genealogical challenges.
Google Your Family Tree by Daniel M. Lynch
Check out OGS 929.10720285 LYN in the non-circulating Main Branch, GPL genealogy section
Have you ever been frustrated when searching Google or when the results are not what you were expecting?
With this workbook approach, learn how to search more effectively and quickly evaluate the results with well-described techniques. Also learn tips and tricks for Google Books, Google Maps, Google Earth, and working in different languages. The "Getting Started in Genealogy" and the overview of top genealogy websites from around the world provide a launching point for your family research.
DNA
The Family Tree Guide to DNA Testing and Genetic Genealogy by Blaine T. Bettinger
Check out 929.1072 BET 2019 at the Main Branch, GPL
Blaine Bettinger provides an easy-to-follow explanation of DNA testing in this updated guide. Details on the different types of DNA tests and testing methods are provided and both common misconceptions and ethical issues are discussed. Get tips on determining how to choose which test is right for you and tools for analyzing test results and applying them to further your family history research.
The Adoptee's Guide to DNA Testing by Tamar Weinberg
Check out 929.1072 WEI at the Main Branch, GPL
Researching an adoptee's family history can be difficult and complex. Often researchers don't know where to begin the search when their parentage is unknown and become quickly frustrated. DNA testing can be a valuable tool in helping to identify ancestors and potential relatives. This book includes information on using DNA tests and applying the results to fill in gaps in the family tree. Read the real-life success stories for inspiration.
Your DNA Guide – The Book by Diahan Southard
Check out OGS 929.1072 SOU in the non-circulating Main Branch, GPL genealogy section
Not looking to read a whole book on genetic genealogy but want a step-by-step guide to help solve some family history mysteries. This book approaches genetic genealogy by encouraging researchers to focus on a specific DNA question and then provides instructions and tips on creating a step-by-step plan to find the answer. This book will assist those just starting in genetic genealogy as well as those who want to learn more about their DNA matches, how to stay organized, and track their DNA journey.
Italian Heritage
The Family Tree Italian Genealogy Guide by Melanie D. Holtz
Check out 929.1072 HOL at the West End Branch, GPL
This is an easy-to-follow resource for those starting to research immigrant ancestors or ancestral families living in Italy. Information on Italy's history and geography is provided and the fundamental records required to trace your ancestors are outlined including where to find and decode them. There are tips for avoiding cultural pitfalls and solving common research problems. Each chapter summary highlights key points and the appendices focus on relevant publications, websites, record repositories, Italian genealogy word lists, and sample letters to request records.
Finding Your Italian Ancestors, A Beginners Guide by Suzanne Russo Adams, AG
Check out OGS 929.1 ADA in the non-circulating Main Branch, GPL genealogy section
Although identified as a beginner's guide, this book is full of information and resources for those just starting their research as well as for experienced genealogists. Not only will you find information on locating your place of origin as well as civil and church records, but you will also learn what types of records are located in Italian Archives and how they can be accessed. The translations of Italian records, Italian handwriting tips, and sample letters for writing to Italy to obtain records are quite helpful.
Alice St. A Memoir by Richard Valeriote
Check out 610.695092 VALER in either the circulating or non-circulating (genealogy section) at Main Branch, GPL
If you are looking for a local example of Guelph's Italian immigrant community, you might want to check out this book. Richard Valeriote was born in Guelph's St. Patrick's Ward to immigrant parents. His autobiography helps us to understand what it was like to grow up in a large Italian Catholic family. He shares his passion to become a doctor and his struggles to attend and finance his studies at McGill University, his marriage, and his move to California after graduating.
This book provides excellent background information for writing a family history centered in an Italian immigrant community.
Canadian Heritage
Finding Your Canadian Ancestors: A Beginner's Guide by Sherry Irvine and Dave Obee
Check out 929.10720971 IRV at the Main Branch, GPL
This is a great resource for those researching ancestors in Canada. The various types of records are described along with information specific to each province and territory. There are chapters dedicated to Indigenous Peoples, Acadians, and United Empire Loyalists and the tips for avoiding pitfalls are a great help to all researchers. The timelines for Canadian history, and Canadian records, as well as timelines for Britain, France, and the United States are wonderful quick reference tools.
Build Your Family Tree: A Guide for Canadians with Local and Global Roots by Lynne Butler
Check out 929.1072071 BUT at the Main Branch, GPL
Although wills and probate records often provide important details on family members and their relationships, they are an underused family history resource. Learn what details these records can offer, the various types of records, and where you can find them in each province There is also a downloadable kit with worldwide resources and research forms. You just might find that elusive family clue in an ancestor's will!
Ontario Genealogy for Beginners by Ruth M. Burkholder
Check out 929.10720713 BUR 2017 in the non-circulating Main Branch, GPL genealogy section
In this newest edition, Burkholder provides clear explanations of important records including how they can assist in your research and where they can be found. The details on Canada West (Ontario) along with both historical and current maps are useful in demonstrating how the province has developed over time and relevant jurisdictions. A checklist for genealogical sources, inciteful best practices, and forms that can be copied and used for personal research are also included.
United Empire Loyalists
American colonists who supported the King of England during the American Revolution (1775-83) and migrated to Canada during or following the war were identified as United Empire Loyalists. Thousands of these Loyalists received land grants from the British government in recognition of their service and losses. It has been estimated that one in six Canadians is descended from a Loyalist. Could there be a Loyalist in your ancestry? Can you claim the title of UE as a descendant? These resources can help you find the answers.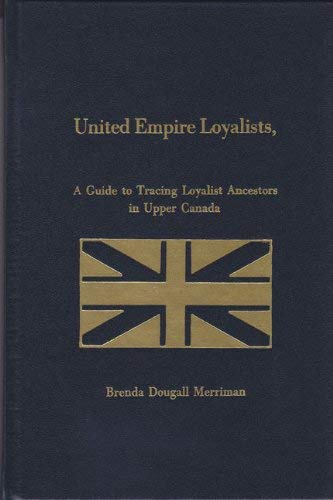 United Empire Loyalists: A Guide to Tracing Loyalist Ancestors in Upper Canada by Brenda Dougall Merriman
Check out 929.20971 MER at the Main Branch, GPL
Whether you are just beginning your search for a Loyalist ancestor or are an experienced researcher this is an excellent reference tool. Background information, misperceptions, and the criteria used to identify a "Loyalist" are discussed. Research methodology including analytical interpretations of records and relevant sources are detailed and a number of case studies are used to explain the various types of petitions.
United Empire Loyalists: enquiry into the losses and services in consequence of their loyalty: evidence in the Canadian claims by Alexander Fraser
Check out 929.3713 FRA in the non-circulating Main Branch, GPL genealogy section
Following the American Revolution, a British program was created to provide land in Canada to United Empire Loyalists. This two-volume set includes copies of the original accounts and evidence provided by Americans in support of their land claims. Background information on the American Revolution and the incentive for Loyalists to move to Canada is also provided.
Guide to Finding a Loyalist Ancestor in Upper Canada by Lorine McGinnis Schulze
Check out 929.3713 SCH in the non-circulating Main Branch, GPL genealogy section
This is a quick guide to United Empire Loyalist resources and where they can be found. Land petitions and the importance of notations on the petition envelopes are outlined along with Loyalist Lists and Registers. A step-by-step guide to the Haldimand Papers is provided as well as details on the Heir & Devisee Commission Papers, Upper Canada Sundries, State Submissions to Upper Canada and more!
British Home Children
Over 100,000 children under the age of 18 were sent to Canada between 1869 and 1939 as part of a child migration program that was supported by the governments of both the United Kingdom and Canada. Once in Canada, the children worked as indentured farmers and domestic servants. It is estimated that one in every 10 Canadians is a descendant of a British Home Child. Learn more about British Home Children through these resources. Maybe, you have an ancestor who was part of the child migration program.
A Genealogists' Guide to Researching British Home Children by Gloria Tubman
Check out 929.1072 TUB in the non-circulating Main Branch, GPL genealogy section
This guide is a compilation of articles that provide key information for researching your British Home Child ancestor with reminders that many of the children did not talk about their experiences and some of their stories can be unsettling. How to use resources such as Vital Statistics, passenger lists, city directories, military records, valuation records and church records is explained along with clues to identifying British Home Children in the 1921 Canadian census.
The Golden Bridge by Marjorie Kohl
Check out 971.05 KOH in either the circulating or non-circulating (genealogy section) at Main Branch, GPL
This well-researched resource describes the conditions that led to the creation of the child migration program in the U.K. and in Canada and provides many interesting details of both large and small agencies that were involved in sending children to Canada. There are many stories from the children describing their experiences onboard the ships and their arrival in Canada as indentured individuals. Examples of indenture and adoption forms, an example of a 1903 Barnardo advertisement, and many lists of children are included.
Outside the Gate: The True Story of a British Home Child in Canada by Carol Marie Newall
Check out 362.73086912092 COOPE N in the non-circulating Main Branch, GPL genealogy section
Carol Newall spent ten years researching the details for her recently released biography of her grandmother, Winnie Cooper. Winnie was a British Home Child who arrived in Canada in 1911 along with approximately 400 other children aboard the SS Sicilian. Read about her experiences in the United Kingdom, her migration to Canada, and her connection to Wellington County.